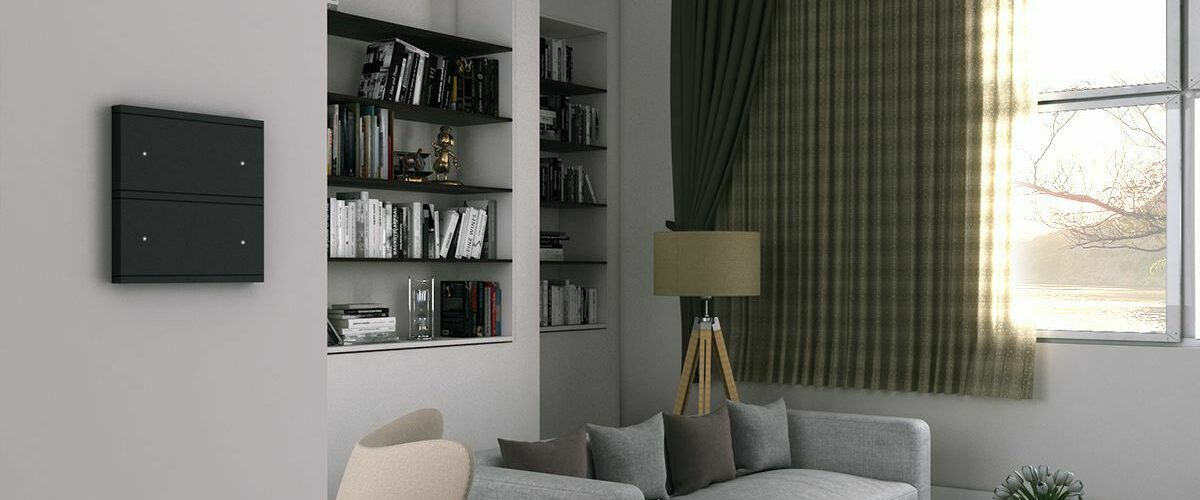 5 KNX light switches for your smart home
A light switch can make or break your whole interior, from sleek and minimalist switches to an ordinary white rocker. Thankfully, there are plenty of KNX-compatible light switches out there that can elevate your smart home with just one push of the button.

When thinking of light switches, you might not associate them with anything more than turning on and off your lights. But a smart light switch offers you so much more, from controlling your lighting to heating control, blinds and even audio. Let's take a look at these 5 great switches we found for your KNX smart home.
Oria Series KNX switches by EAE
When you're looking for minimalistic switches with a lot of different functionalities, the Oria KNX Switches by EAE are an excellent choice. Allowing you to add as many as 12 different push buttons in one frame, the Oria Switches can be used to control your lights, blinds, speakers and can even mimic panic buttons.
With its sleek design they fit right into every home, giving you the option to choose from four finishing colours and the possibilities to leave out the icons for an even cleaner look. Not to mention, the special coating finish prevents any fingermarks to be left on the surface.
The ILLUME range by Lithoss
The ILLUME range from Lithoss offers you less functionalities than some of the other switches on this list, but is a great choice when you're looking for more of a statement piece that gets the job done. Next to its standard functionality of lighting control, the ILLUME switches have an integrated temperature sensor. Not to mention the unique LED backlight that diffuses the light on the four sides of the switch, acting as an orientation light that brings a vivid ambient to every room.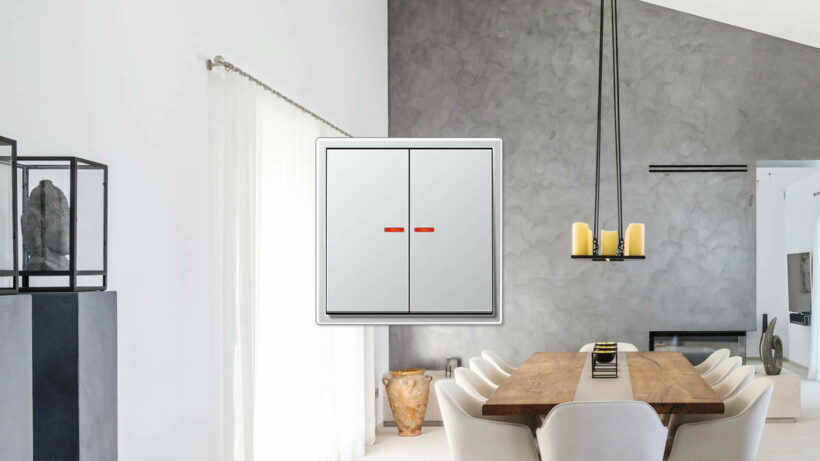 Jung F10 Push-button Modules
The Jung KNX push-buttons look just like your classic light switches, but they master an array of control possibilities. Blending right into your smart home, the Jung push-buttons come in various designs and finishes. The buttons are completely optimizable, using the ETS Service app to fit your needs best. You can even assign the individual switching points of the buttons multiple times, so the options are endless.
With functions like an integrated temperature sensor that records the temperature of the room and passes the data on to different actuators in your KNX home, and an energy saving modus, the Jung KNX push-buttons can help you keep your energy bill low. Other functions include the control of your blinds, scenes, a lock function, alarm signaling and even HSV colour control.

---
KNX push-button F10 - Jung
Gira KNX Button
The Gira KNX Button already proves its durability and functionality in public buildings, but it's also a great choice for your own smart home. Made out of stainless steel and shatterproof plastic, the button is made for the long haul and the integrated LED lights will make the dark a little less scary at night. Giving you the option to choose between a single- or double-buttons switch, the Gira KNX button can be assigned up to 4 different functions. Next to regulating your lights, light colour, and brightness, the KNX button allows you to have full control over your smart home thanks to its many other features like heat, blinds and scene control.
Sentido by Basalte
Last but not least on this list is the Sentido by Belgian manufacturer Basalte. The Sentido is different from other switches in this list in the way that the keypad uses capacitive touch technology and not a rocker or push button. But what really makes the keypad stand out is its variety of finishes that include brushed brass, white glass and even a leather look.
Of course the Sentido is more than just a pretty switch, it also includes an integrated multicolor LED light and a temperature sensor. The keypad comes in a 2- or 4-button configuration and its multitouch technology lets you control your KNX setup with the slightest hint of a touch.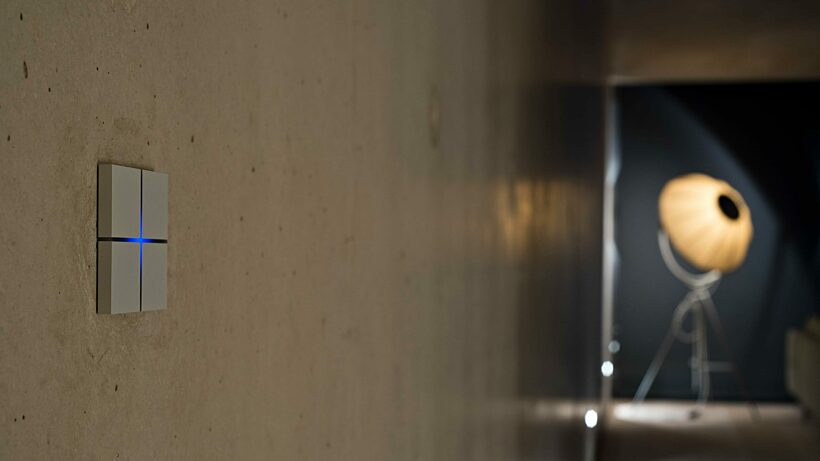 These 5 KNX switches are all great options to implement in your KNX smart home. Now the decision is yours to choose the one that fits your interior and needs best.