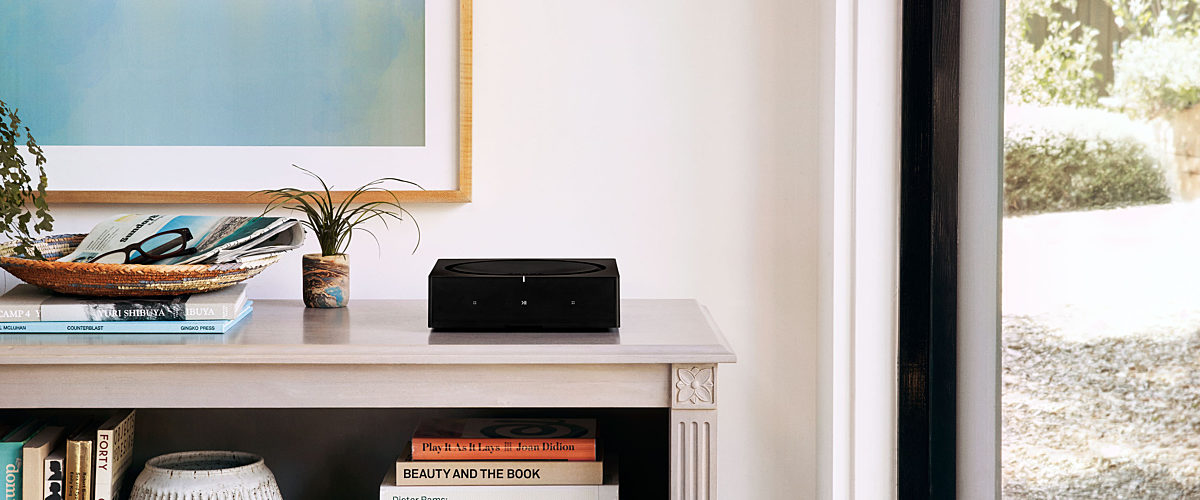 The new Sonos Amp takes music control seriously
A streaming device with an amplifier, or an amp with streaming function creating unlimited custom possibilities.
Unlimited custom control configurations
As the Sonos:Connect celebrated its 10th birthday, Sonos thought it was time to add to the lineup the new Sonos Amp. An overhauled design with more flexibility and options in terms of both in- and output. The 55 watts of its predecessor have been beefed up to a more aptly 125 watts per channel. With an HDMI input and AirPlay 2 support, we're only just scraping the surface of the numerous custom control settings and configurations the Sonos Amp has to offer.
Next to the sleek design which reminds of the Apple Mac Mini, one of the new features are the banana plugs which differ from the spring-loaded versions of the Connect:Amp, making it easier to connect older generations of floor speakers or bookshelf speakers.
The power upgrade of 55 watts to 125 watts over two channels results in an ideal set-up of two speakers. Although the amp can run four passive speakers just as well, something that was barely possible with the Connect:Amp.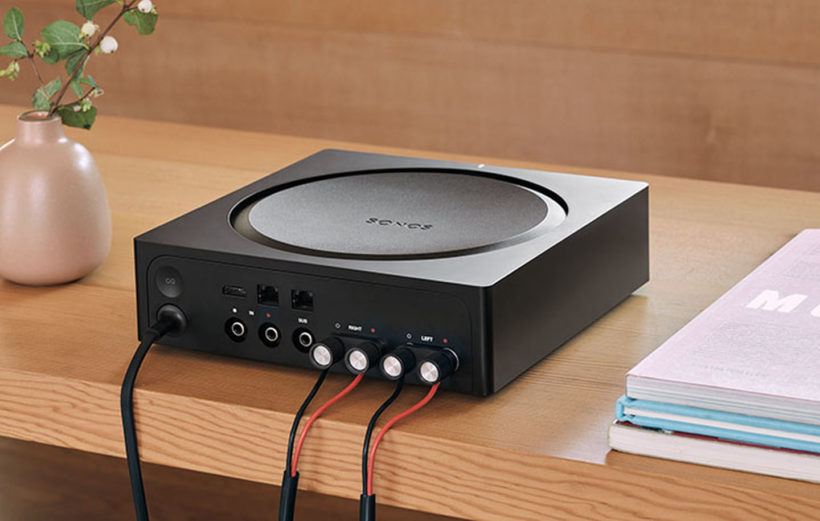 The new Sonos Amp combines a sleek design with a strong power upgrade and more input options.
---
Sonos
Connect easily to your Smart TV via HDMI
In terms of connectivity, Sonos has added an analog RCA input, making it possible to connect turntables, CD players or any audio device with an RCA output. The HDMI input is new as well, making connecting your TV a piece of cake.

Customer research carried out by Sonos showed that many users connected their Connect:Amp to their TV, some even going lengths with inventive hacks to have it run a 4.1 audio system. The need for this is easily found in the new Sonos Amp thanks to that HDMI input. A Sonos SUB can be added wirelessly for some extra deep end and before you know your 4.1 home cinema surround sound system will be up and running.

Needless to say, Sonos supports all major streaming services and both set-up and controls are done through the Sonos app.
Shut up and take my money?
Sound quality is what you can expect from Sonos, but it heavily depends on which type of speaker you use. Although tests have shown that the Sonos Amp creates a true hi-fi sound on midrange speakers and up. The only downside is that Sonos still doesn't support hi-res music. Something which is rather mandatory in today's hi-fi market.

Still, the improvements made on both power and connectivity create almost endless possibilities which can be controlled with your trusty Sonos App. You can run a 2.0 hi-fi speaker system or create an almost entirely wireless 4.1 surround sound TV speaker system. Time will only tell if this is Sonos' first foot in the door of the hi-fi market. Judging from the price they've set (699 euro, catalog price), the Santa Barbara-based manufacturer looks to compete with the likes of Cambirdge and Marantz.